A parents guide to the Zones of Regulation
The Zones of Regulation is an intervention programme designed by Leah Kuypers, Occupational Therapist to help individuals gain skills in the area of self-regulation.
Self-regulation can go by many names such as self-control, impulse management and self-management and is described as the best state of alertness for a situation. For example, a pupil would need a higher state of alertness for a PE lesson than during assembly.
The curriculum uses four zones, each one characterised by a range of emotions. The curriculum provides a series of lessons with activities to support pupils to:
Identify their own emotions
Identify the emotions of others
Understand the impact of others emotions on them
Understand the impact of their emotions on others
To develop strategies to manage big emotions.
Pupils who have difficulty managing their emotions often find it hard to learn and participate within a busy school environment, learning strategies and activities to help cope with a range of emotions can help pupils to be ready for learning and activities.
Teaching children at a young age about managing their feelings will support them later on in life to use positive coping strategies.
The Zones at Ifield School
At Ifield school, classes have visual displays to support them in recognising the zone they are in
Classes use the emotional vocabulary of the zones curriculum to support pupils understanding
Use the zones to help pupils understand what makes them move into different zones
As a class identifying others zones thus developing better empathy
What are the Zones?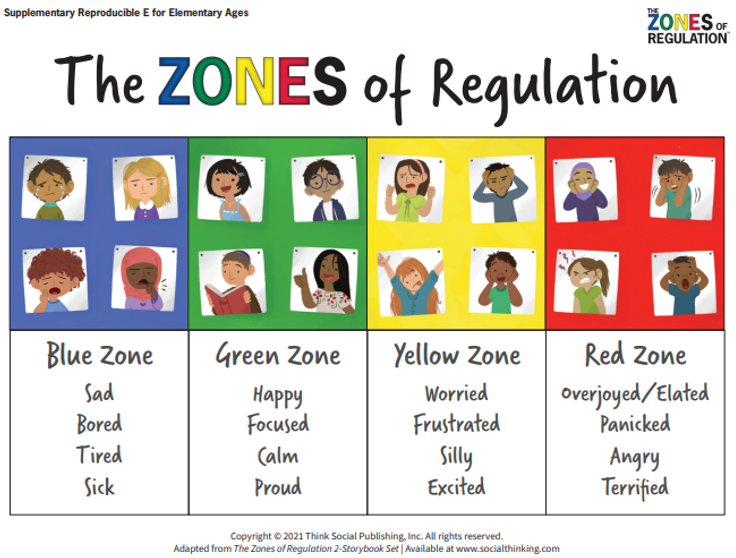 We will teach the pupils that every one experiences the full range of emotions and zones. None of the zones are 'bad' or 'naughty' zones, all zones are expected at specific times, for example being in the blue zone at bedtime is helpful to calm for sleep.
The curriculum also explores a range of coping strategies or tools
Once a range of strategies or tools have been identified with a pupil, they are put together as an individualised toolkit or strategy card to remind them and others of suitable supports.
Using the Zones of Regulation at home
Use the language of the zones at home to identify your own emotions, it's okay to name the emotion and/or zone.
Talk about the coping strategies you use, such as 'I am going for a walk to calm and get back in the green zone'.
Engage your child in discussion about daily event that make them happy, sad, frustrated or mad.
Try different tools/strategies with your child and prompt them to use them at specific times.
Modelling is really important, show children how to use tools/strategies in different zones.
Share how the child's zone is influencing your zone.
Have visuals for the zones and useful tools at home.
Encourage sharing of zones.
Further links
https://www.zonesofregulation.com/index.html
https://www.weareteachers.com/zones-of-regulation-activities/
https://www.thinkingbooks.co.uk/dept/the-zones-of-regulation_d0168.htm
https://www.theottoolbox.com/zones-of-regulation-activities/