Ifield School
Careers Advice and Guidance
Key Personnel Contact details
Headteacher:

Mrs Madeleine Arnold-Jones

Sixth Form Lead:

Mrs Sam Hargood

Careers Lead:

Mrs Suzann Mason

Key Stage 2 Teaching and Learning Lead:

Mrs Ruth Fahey

Key Stage 3 Teaching and Learning Lead:

Mrs Victoria Butler

Key Stage 4 Teaching and Learning Lead:

Mr Richard Skiving

Chair of Governors:

Mr Andrew Sparks

Governor with responsibility for Careers:

Dot Marshall-Gent

School Postal Address:

Ifield School

Cedar Avenue

Gravesend

Kent

DA12 5JT

School telephone number:

01474 365485

School e-mail address:

office@ifield.kent.sch.uk
Careers Education at Ifield School and Sixth Form
Ifield School and Sixth Form strive to provide an extensive, varied and bespoke careers education programme to all our learners. We focus on supporting pupils into their first paid job through extensive exposure to careers advice and support throughout the curriculum. Section 42A of the Education Act 1997 requires governing bodies to ensure that all registered pupils at the school are provided with independent careers guidance from year 8 to year 13. Due to the complex nature of our pupil's special educational needs this needs to be carefully designed to allow them to gain meaningful employment. The iFutures careers programme was launched in 2021 in conjunction with a range of partners whose passion to secure the best possible outcomes for young people with SEND matches our own.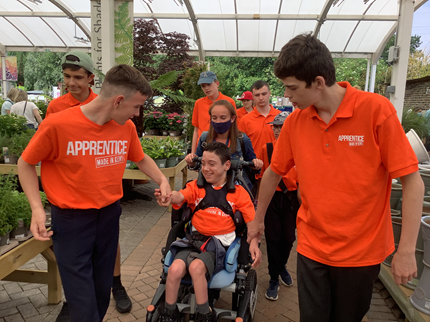 iFutures SEN careers programme
The iFutures SEN careers programme outlines the careers curriculum and pathway to employment from key stage 1 through to sixth form. In key stage 1 and 2 pupils will undertake class-based job roles such as register delivery and snack captain. There are weekly careers options in secondary school that are certificated through ASDAN. As well as these planned careers sessions in key stage 3 and 4 there are six specific employment projects undertaken in key stage 4. These involve a range of employee encounters and specialist input from our enterprise advisor Babette Powell.
The named teacher for careers is responsible for co-ordinating the careers programme at Ifield School. The Head of Sixth Form is responsible for co-ordinating the careers programme at Ifield Sixth Form and LINK19 College. The co-ordinator works closely with a range of specially selected partners who provide specialist SEND careers guidance. This is currently Richard Lamplough from My Employment Passport. All teaching staff (years 7 to 14) contribute to the delivery of the careers programme according to the schemes of work for key stage 3, key stage 4, sixth form and LINK19 College. This programme is also delivered through a range of cross curricular and vocational subjects including PSHE, citizenship, life skills, functional skills and other accredited programmes such as OCR and ASDAN accredited programmes.
Click Here to download the iFutures SEND Careers Programme Brochure.
Inclusive Careers Education
The Cedar Federation will ensure that careers guidance for students is differentiated, based on high aspirations and a personalised approach. Every student, whatever their level or type of need, will be supported to achieve the best outcomes.
Advice given by our partners will be:
Impartial – showing no favouritism towards a particular institution, education or work option
Accurate and relevant
Based on the student's own aspirations, abilities and needs.
Managed by trained people
Easily accessible
Non-stereotypical
Inclusive of information on the range of education or training options, including apprenticeships and technical education routes
Promote the best interests of the students to whom advice is given.
Linked to the availability of the full range of relevant education, training and employment opportunities, such as traineeships and apprenticeships, supported internships or routes into higher education.
Well informed about ways in which adults who have SEND can be supported in the workplace (e.g. job coaching, supported employment, reasonable adjustments, Access to Work advice).
Focussed on the student's career aspirations, and the post-16 options which are most likely to give the young person a pathway into employment, or higher education and will not simply focus on meeting their immediate needs.
The Cedar Federation will ensure that there is an opportunity for a range of education and training providers to access all students in year 8 to year 13 for the purpose of informing them about approved technical education qualifications or apprenticeships.
SEN and the Gatsby Benchmarks
Ifield School and The Cedar Federation use the Gatsby Benchmarks to develop and improve the careers provision. These are reviewed three times a year by the careers lead and our enterprise network advisor. We currently score between 80% and 100% on all benchmarks but strive to find ways to improve with every review. We build pupil voice into each element of our provision. Each careers project the pupils undertake is evaluated by them. This includes the input from employees. We use this feedback to ensure the projects, advice and guidance is tailored to their needs.
Careers guidance at Ifield School is designed to connect learning to the future and motivate young people by allowing them to develop a clearer idea of the routes to jobs and careers that they might find engaging and rewarding. Ifield School recognise that good careers guidance widens pupils' horizons, challenges stereotypes and raises aspirations and provides pupils with the knowledge and skills necessary to make successful transitions to the next stage of their life. iFutures is a careers programme for life beyond Ifield.
Careers Programme by Key Stage
At Ifield School, the careers programme is designed so that students can expect:
Key Stage 1 / Key Stage 2
That employment is mentioned in all person centred reviews
Where possible pupils to have 'job roles' in class
Key Stage 3 / Key Stage 4
To have a range of meaningful employee encounters
To undertake 6 cross-curriculum careers projects
To be encouraged to identify personal traits, strengths and skills and develop confidence and have high expectations of themselves.
To begin building vocational profiles
To be introduced to careers resources and informed how to use them
To build on personal strengths and begin to link skills to specific careers enabling realistic informed decisions at transition stages
To be introduced to the world of work and how it constantly changes
To be introduced to software and websites
To be encouraged to think about what they might like to achieve after school
To explore post-16 pathways
To be encouraged to use careers resources available and informed where to find out more about specific careers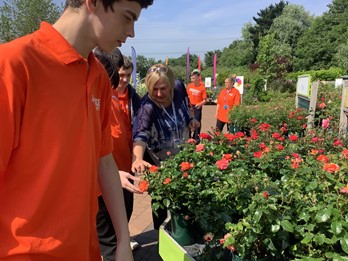 Key Stage 5
To be encouraged to reassess personal strengths with a focus on transferable skills
To be encouraged to investigate different jobs and careers and what they mean in terms of lifestyle, budgeting and a good work life balance and develop economic awareness
To be encouraged to challenge stereotypes within the world of work and traditional job roles
To be provided with a wide range of opportunities to engage with a range of local business, FE and training providers
To further develop economic awareness and be encouraged to think about employability, which careers appeal to them and to identify and set themselves realistic future goals
To complete work experience
To develop interview techniques and complete mock interviews with local employers
To be supported with post 19 choices and encouraged to consider all their options including further study and apprenticeships
To be encouraged to think about the kind of behaviour potential employers look for
To be encouraged to attend careers talks, fairs, college open days and taster days with employees
Assessment of iFutures – The Ifield Careers Programme
Ifield school uses a range of techniques to measure and assess the impact of the careers programme on pupils. These include lesson observations, learning walks, work experience reports and the annual review of EHCP outcomes.
Assessment within the area of careers and work related learning is usually in the form of student self-assessment supported by discussion with teachers and support staff. Each student will develop a portfolio of work to illustrate their individual achievements and learning journey.
The outcome of careers and work related learning study programmes will form a part of the students EHCP from which the careers advisor working with the student will use the outcome and aspirations detailed in the EHCP to focus their discussion with the student.
If you require further information about careers advice and guidance available at Ifield School, please contact Mrs Suzann Mason, Assistant Headteacher and Ifield School careers lead.