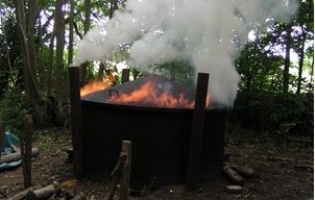 We are pleased to announce that our charcoal kiln is now fully charged after a number of years of non-use and ready to go! Our student maintenance team have been busy collecting timber and loading the kiln this term, and our Sixth Form students are looking forward to marketing the final product.
The firing is quite dramatic and impressive to see, so we would be pleased if as many as possible of our friends and supporters, as well as our students from school and college, could be present to witness this "post-Guy Fawkes" display! "Ignition" will take place at around 10 am on Friday 16th November and there will then be a period of consolidation of the burn leading into Saturday, which will be supervised by our Woodland team.
We will be providing a hot drink for visitors, and would suggest that you come prepared for possible cold and muddy conditions. There should be adequate parking facilities as you enter the site, but it would be helpful if you are able to car share.
Please confirm by email to ifieldschool@aol.com if you are able to attend.