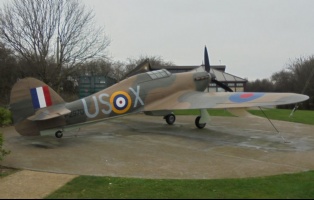 In November Woodpecker and Robin classes visited The Battle of Britain Memorial in Folkestone. The Christopher
Foxley-Norris Memorial Wall is engraved with the names of all those who were awarded the Battle of Britain Clasp following the aerial battle that took place between July and October 1940.
The pupils were able to see a full scale replica Hawker Hurricane Mk 1 US-X and a replica Supermarine Spitfire Mk 1. They also visited the interactive Scramble Experience which features a unique video that brings to life the Battle of Britain.
This educational visit was planned to add to and consolidate our WW2 topic work and was a very valuable and worthwhile experience for the pupils.