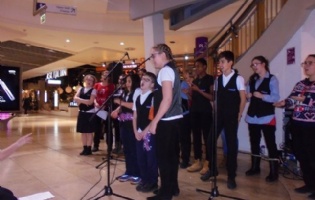 Ifield Choir have been very busy this term performing for a variety of events and people! The pupils have worked so hard and learnt a whopping total of 30 songs! In addition to singing in the community the choir have sung for: The Bazaar, Christmas dinners, and even in Gravesend Town Centre to raise money for the charity: Demelza hospice. Thank you to the parents for supporting the events, staff who support with singing club and the events and of course to the pupils themselves.
On the 20th December the choir sung at Bluewater Shopping Centre, the choir sang for a whole hour and learnt over 20 songs, we performed ensemble numbers and the following pupils sang amazing and confident solos: Noor, Antonio, Ethan, Katie, Harley, Laila, Charley and Gracey. Many shoppers stopped to watch and listen to their singing, the Bluewater staff also commended the pupils on being the only school choir to have sung everything from memory. Well done to all the choir you have made us very proud and thank you to the support staff for all their hard work with the pupils.
On the 6th December the choir sung at Demelza Carolthon, the choir learnt how to sing in all weathers during this performance, halfway through their set the wind really picked up! Like the true professionals they are they kept singing!